It's pretty obvious that the Bruins get the least amount of love here in Boston. Monday, they were trounced in the TV ratings by Packers vs Lions and the Celtics. I never would expect them to beat out football or the C's (currently on fire), but I thought it would be closer.  Packers-Lions had a 5.8 Nielsen rating in the city of Boston while the C's came in at a respectable 4.4. The Bruins……. an abysmal 2.2.
Now I get it, it's the beginning of the season, and this town switches their Celtics and Bruins hats to whoever is playing better. Right now, it's obvious the city would dye the Charles green if it could, but this Bruins team is fun too. I think the problem is there are so many new faces and not a lot of backstory on where the heck they came from. Even I have found myself saying on numerous occasions this season "Who in the heck is this guy?"  Outside of Bergeron, Marchand, Chara, Backes, Pasta, Krejci, Krug and Mcquaid, Can you name another Bruin on the roster?  Harder than you thought isn't it? Have no fear, Sean will help you so we can all stop having those "Who the heck is that guy" moments. Let's become social butterflies, it's Meet and Greet time.
Anders Bjork

Born:

 August 5, 1996

Birthplace:

 Mequon, WI, USA

Shoots:

 Left

Draft:

 2014 BOS, 5th rd, 26th pk (146th overall)
Anders is barely able to drink adult beverages and yet scored his first career NHL goal against the Coyotes in the Bruins 4th games of the season. Amazing scrappy kid, and has been a true threat on Power Plays.  Bjork was drafted by the Bruins in the 5th round in 2014 and has worked himself up to the main squad. He went to college at Notre Dame and was a finalist for the Hobey Baker Award (Best player in men's college hockey). Like most of these "kids" that we shall be meeting, they will make you feel terrible about your life choices. He's 21. He makes wayyy more money than you and plays hockey professionally while you sit in a cubicle. Here's an example of what you can get from him.
Jake DeBrusk

Born:

 October 17, 1996

Birthplace:

 Edmonton, AB, CAN

Shoots:

 Left

Draft:

 2015 BOS, 1st rd, 14th pk (14th overall)
Jake DeBrusk was the middle pick of Don Sweeney's infamous three 1st round picks in a row (13th-15 overall) in the 2015 draft. This kid was once considered a bust when he failed the Bruins conditioning test. He obviously learned from it and worked his butt off to get a chance to be on the main roster for the start of this season. DeBrusk has impressed early on winning numerous puck battles and has scored 3 goals this season. His speed and ability to finish are going to be a force for the rest of the year. Watch this. This was his first NHL game EVER, and his family was in the building!
It's ok if you teared up there, I won't tell anyone.
P.S he scored and also took 6 stitches to the ear Monday night like a boss. Hockey players man…no care what so ever for their well being.
Danton Heinen

Born:

 July 5, 1995

Birthplace:

 Langley, BC, CAN

Shoots:

 Left

Draft:

 2014 BOS, 4th rd, 26th pk (116th overall)
Unlike the previous 2 players, Danton is at the ripe old age of 22! Danton has played in 9 of the 13 games so far this season and has 2 goals and 5 assists. The two goals came on the same night against San Jose, here is the second one.
Sean Kuraly

Born:

 January 20, 1993

Birthplace:

 Dublin, OH, USA

Shoots:

 Left

Draft:

 2011 SJS, 5th rd, 12th pk (133rd overall)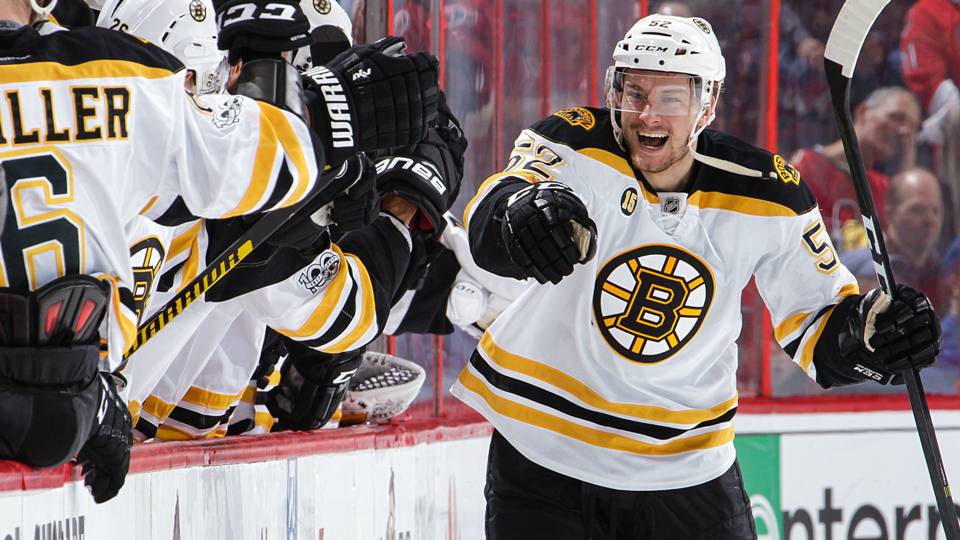 Easily my favorite young guy because of the sweet first name. On top of that, he's proven to be able to produce in clutch moments. You probably forgot about his 2 goals last year that literally saved the season. Here's a refresher:
Oh, wait was that not clutch enough? How about another game-winner from this season.
Alright, I feel like we are now more acquainted with this Bruins team then we were before. Hooray, progress!! I'd be remiss without introducing you to one last player on the defensive side. I know most of you know him already but we need to save face and say at least hello.
Charlie McAvoy

Born:

 December 21, 1997

Birthplace:

 Long Beach, NY, USA

Shoots:

 Right

Draft:

 2016 BOS, 1st rd, 14th pk (14th overall)
This kid is 19. He turns 20 in December. He is without a doubt the real deal. He played is college hockey down on Commonwealth Ave at Boston University and was the B's first-round draft pick in 2016. Last year the Bruins were decimated with injuries on defense and who stepped in? Yep, an 18-year-old kid. You would think an 18-year-old kid skating into his first NHL game, a playoff game mind you, would have been too much. Charlie CRUSHED it. I remember him making great play after great play and he logged the second most ice time between BOTH teams only behind Chara. If you are a big-time hockey fan there is a guy over in Ottawa named Karlsson – yeah this kid had more ice time than him.  This year Charlie leads the team in assists as I write this with 7 and also added his 1st career NHL goal to the score sheet:
Ok, now we are done. The point of this Meet and Greet is to show everyone that this team is fun too!  You are reading this from someone who is the biggest Celtics die hard you will ever meet, but don't forget about the Bruins. Will they frustrate the heck out of you this season? Absolutely! When do 19-24 year-olds do anything right 100% of the time? The point is that every game this young team gets under their belt is only going to make them better and better. If anything, I hope this post helped some people become more acquainted with the "No Names" of this Bruins team and influences you to show them a little more love in the ratings. Here's to getting back some veteran players from injury and having another fun ride of Bruins playoff hockey!