There was a camera shot last night that made me really happy. Jaylen Brown had just hit a 3 pointer to get himself to 20 points for the game and while the camera stayed on him you could see the laser focus he had. He was purely in the moment. That was the look I've wanted to see from him since he's been drafted here. I started screaming at the legit 8 inch mini TV we have in the back of McGreevy's. (If my boss reads this I was totally working.) "LET'S GO JAYLEN, THAT'S THE LOOK YOU NEED."  I loved seeing him not have the deer in headlights look that many rookies and second-year players have when transitioning to the NBA. I turned to a co-worker and said "He's playing out of his mind tonight". After the amazing comeback win, we found out why.
Jaylen's best friend from high school passed away two days ago. His name was Trevin Steede and Jaylen was nice enough to let us in on how they met. Jaylen had transferred high schools and as most of us know it's not an easy place to be, let alone be without any friends. Jaylen not knowing anybody would sit by himself at lunch and it was Trevin who came over to him and said to come sit with him. Since that moment they were brothers.  If you remember that hype video Jaylen put out last month the guy he's going one on one against, that was Trevin.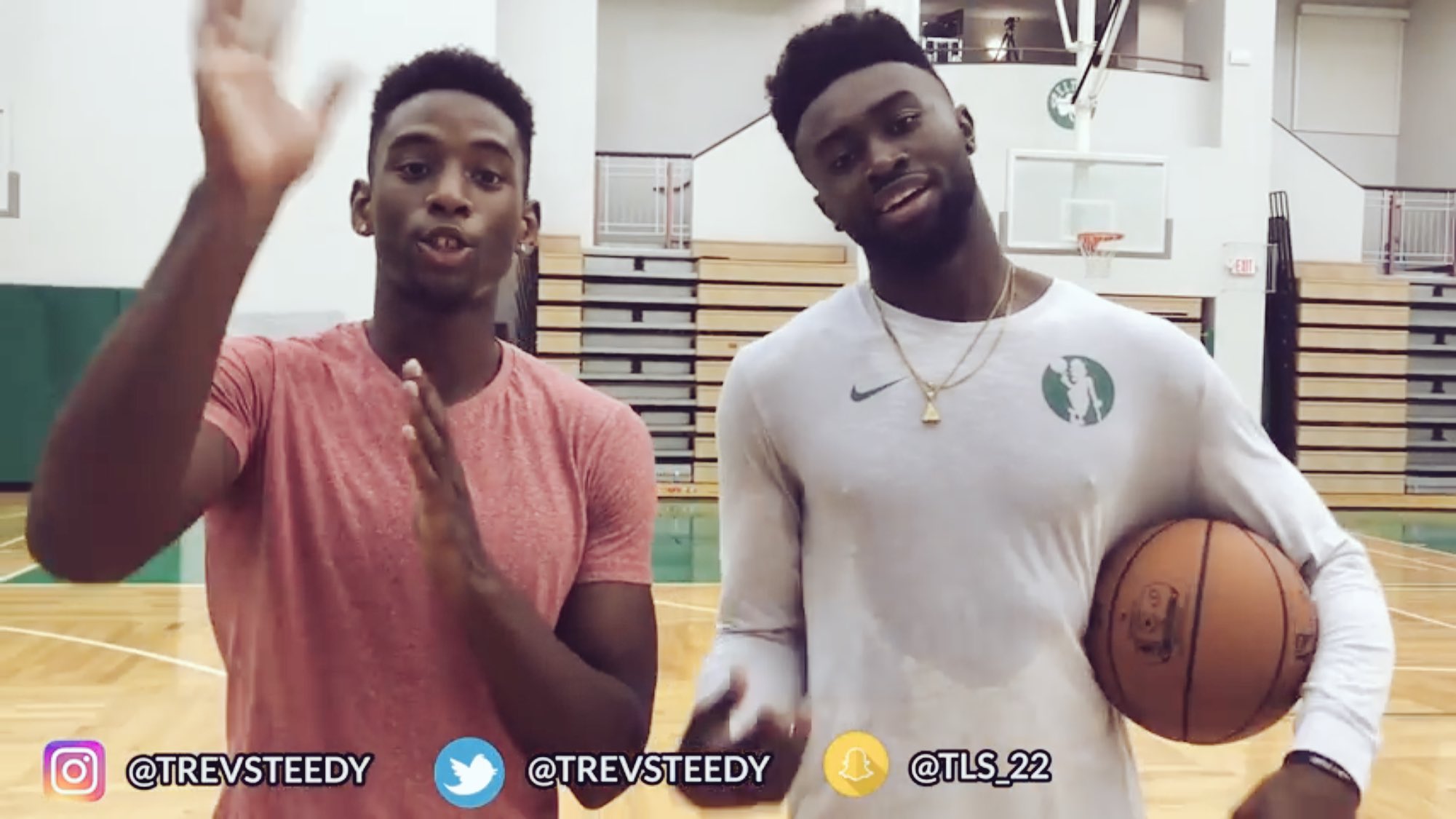 Jaylen almost didn't play last night and nobody would have blamed him. I am so happy the mother of Trevin called him and told him to go play. We've seen it before with Isiah Thomas losing his sister last year. The ability for both of them to get focused on a basketball game while dealing with a crushing blow is nothing short of extraordinary and I give all my respect in the world.  You have two choices when dealing with the crap life hands you on a daily basis. You can sit there and take it and have a pity party woe is me attitude about everything. (Nobody is going to blame you.) Or you can accept it, grow from it, and strive to be better every day. If Jaylen stays in his room last night, last night doesn't happen. Let that sink in.  Jaylen will be the first person to tell you he's happy he played. Thanks to Jaylen and Trevin's family and his teammates surrounding him he had the strength to put on a gutsy performance.  That's what it's all about fam.
The great thing about sports is that it can lift you up in desperate times. Whether it is as simple as you had a bad day at the office or as hard as dealing with the loss of a loved one, you can find solace in sports. It brings millions of strangers, families, old people, young people TOGETHER. There is not a lot of things that can do that. There's not a lot anyone can agree upon these days, but cities, communities, all walks of life, white, black, yellow, purple, green can come together and watch their local or favorite team play a game and feel connected.  Someday I'll share with you stories of my grandmother and the connection we had because of the Boston Celtics but today needs to be focused on Jaylen Brown. The point I am trying to make is that life is hard. We all long for connection and approval with people. Sports helps with that. Even my fiancee, I know, could care less deep down about the outcomes of games, but she loves the "event" it brings.  She loves Super Bowl parties. She loves Football Sunday Funday's, She loves playoff games at bars because it brings friends and family TOGETHER.  You don't even have to like sports to enjoy sports. DEEP.
Sorry for the Sean existential minute. This team man. The adversity they have gone through in the first 16 games is tops in the league.  Losing Heyward, Going 0-2 and people claiming them dead (I'm still mad at 80% of my Facebook friends), coming back from 15+ points four times already this season, now Jaylen's loss. These events are how teams come together. It's why I really believe this team can do the unthinkable.
After the game, Kyrie gave Jaylen the game ball in that picture above and said "This one's for Trevin".  A very special moment that I am sure Jaylen will appreciate.
If you are not on the Celtics bandwagon yet I don't need to know you. The bandwagon has left and we are cruisin down Interstate 93. (Who am I kidding there's a ton of traffic so you can probably still catch us).
Here's every highlight from Jaylen last night in honor of his buddy.