This was me finding out the news that Patrice Bergeron was not going to play 15 minutes before puck drop: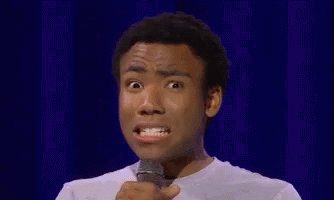 I was thinking about all the negativity I'd have to tunnel through driving to work today. Toronto tying the series 2-2, has all the momentum, Bergeron's hurt, Bruins are dead, blah blah blah.
Instead the Bruins showed the rest of the country what we B's fans have witnessed all season.  This team time and time again has dealt with the injury bug and persevered (you bet your ass I used spell check on that word).  The Bruins went up North as Season 1 John Snow and left it as King.
How did we do it?
Honestly, I have no idea.
Bergeron was certainly missed.  The Bruins struggled to control the neutral zone and were honestly outplayed in a number of areas.  There were 65 face-offs in the game and Toronto won 41 of them.  They were also out shot 31 to 22.  If not for the 27! blocks by our defense that shots on net total would have been even higher for Toronto and we would be singing a much more somber tune today.
In the Bruins Preview Blog I wrote last week (Go read it) I said that Tuukka would need to stand on his head one of these games and steal one that we shouldn't win.  Last night was it.  Tuukka was a brick wall. He was stopping breakaways, making up for his own mistakes, and from what I could tell was seeing the puck extremely well because most of the shots he was saving were hitting him right in the spokes of the B on his chest. I've hated on Rask all season because I think a goalie who makes as much money as he does should be showing me something above average.  Last night he was exactly what 7 million a year should give you….30 saves on 31 shots.  He stole Game 4.
Doing stuff like this:
And This:
Quick Notes:
There's never been a point in my life where I've said no to more pasta. David Pastrnak keeps feeding me. The man is unstoppable and I look for him to continue his ridiculous points streak in Game 5 on Saturday night.
Can I have an unbiased take here for a sec?
I find it EXTREMELY unfair that this will be the 2nd Saturday night 8PM start time at the Garden.  Am I complaining?  NOOOOOOO.   I just find it unfair. Giving the city of Boston that much time to prepare for a series clinching Game 5 is injustice at its finest.  I was sure that I was going to miss the game because I work all day, but even I am going to be able to watch it.
I was at Game 2 and we sat in front of a I'd guess late 40's early 50 year old woman decked up in Toronto gear and a Boston Marathon buff. At the beginning of the game I felt how uncomfortable she was because it was pure chaos and the Bruins got off to an extremely quick trouncing.  Yet she took it like a champion and I said to her I'd never be able to do what you're doing right now. I'll also never be running a marathon. Basically my point is that woman was better than me in every facet of life.  My other point is that was Game 2. A series clinching game 5… in the Garden…. at 8PM…On a Saturday….. God speed to whomever dares to walk in there in White and Blue.
Also real quick: Suck it Felger