This tweet made me spit out coffee that I wasn't even drinking this morning:
My honest reaction to it was: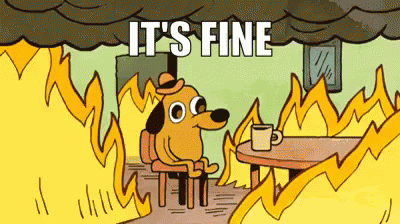 That is a daunting list:
Hayward is obviously OUT and I refuse to entertain the idea of him returning. He better not be.
Jaylen Brown had one of the worst falls I've ever seen. I was working when it happened and did not see it live, but I heard people's reactions. He is so damn lucky that he only ended up with a concussion.  Minnesota fans giving him a standing O was classy and is something I think only certain cities would do to opposing players. It was one of those instances where everyone just wanted to see him move a foot or hand and luckily he was able to walk away under his own power.  We probably won't be seeing him until April.
Horford has an extremely bad case of the flu. He showed up to the Garden on Sunday and the trainers told him to go back home. It's Wednesday and it still doesn't seem like he's gotten any better.
I for one am happy with the way they are dealing with Kyrie. This guy has missed a boatload of games because of his knees and if he has to miss any time now is the part of the season to do it.  It is the exact approach that the Bruins are taking with Bergeron.  Rest your best player so that he is as near 100% as possible for the playoffs. We probably are not going to catch Toronto for the #1 seed and we are 6.5 games ahead of the 3rd place Indiana Pacers. If we need to give him a week off, I'm the one shouting GIVE HIM TWO!
Daniel Theis is out for the year with a torn meniscus.  It sucks because I really like the way he played and provided a spark off the bench. He and Rozier were honestly starting to create a great chemistry together and it's a blow that we've lost him. Greg Monroe will definitely be seeing more playing time because of this which is not a bad thing at all.
Tatum, I feel just didn't want to be left out as the only one not on the injury report so he made up some injury to feel included.
The one I'm worried about is Marcus Smart. Smart is projected to not be back until April either with a right thumb sprain, but I feel it's worse than that. We've gone through the stretch of games without Marcus Smart due to the Photo Frame Saga, and if you don't remember we flat out SUCKED without him.  I am hoping that Rozier and Larkin can handle the load, but nobody can replace Smart's defense and head games.
From the looks of it, the Celtics are going to crawl into the playoffs. Brad Stevens response to all of these injuries was literally "Next man up".  I love it. He knows he has players on the bench that are dying to play more minutes and now he has the opportunity to give them what they want.  The only worry is can they produce some wins while everyone else gets healthy.
The next few games on the schedule are wellllll not fun:
Washington
@ Orlando
@ New Orleans
OKC
Followed by a west coast trip to Portland, Phoneix, Sacramento, and Utah.
Followed by playing Toronto twice the following week.
That's a lot of playoff teams.
We will see how it goes. If they can sneak out above .500 I'd call it a success.
Let's get through this tough stretch and get healthy for the games that truly matter.
I CANT WAIT FOR PLAYOFF SEASON*
*A small thing to think about is that this could be the Terry Rozier come out party this week.  If he puts on a show like he did last time we were hit with the injury bug which he is super capable of doing, look for Danny to use him, Jaylen, and even Smart as pieces to land a big name next year.   If we keep all of them I'm ecstatic, but those are gonna be the 3 names needed to land an Anthony Davis type player. Just food for thought.